OUR DELIVERY MODEL   |   DESIGN THINKING
OUR DELIVERY MODEL
DESIGN THINKING
Never lose an innovative edge by redefining the ways to resolve the problems with Exigo Tech
CHANGING IDEOLOGIES FOR QUICK RESOLUTION
Stop, Start and Reinvent with the Implementation of Design Thinking Principles
A technology enabled business model delivers a bunch of benefits such as scalability and enhanced customer experience. By following a systematic approach such as design thinking, you can overcome all the underlying challenges in the modernisation of the existing processes. Design Thinking enables you to deliver innovative solutions easily and gives you the ability to solve existing issues.
Exigo Tech follows a design thinking approach to solving any business problem. We draw a roadmap for your organisation to go through the five stages of Design Thinking and support you with our expertise and experience at every step of this journey.
A CATALYST FOR INNOVATION
We offer elements for your design thinking framework so that you can easily put this process at the core of your business.

Ability to
Empathise
We help you understand the cause of the problem and other issues surrounding it and discuss the same with different stakeholders to get their take on it. 

Ability to Define
We empower you with the tools to analyse the data generated from observations shared by the stakeholders and driving insights from this data eliminates the guesswork enabling you to decipher the exact solution. 

Ability to Ideate
We collate your ideas and look out for different solutions to solve the problems by using our expertise. 

Ability to Prototype
We use different methods such as storyboards, prototypes, and other visuals to test the feasibility of the ideas suggested by us to produce an effective outcome.

Ability to Test
We utilise different tools and applications to check the usability of the solution in the market, verify vulnerabilities in it and ensure that it complies with the regulated standards. 
Understanding Design Thinking Principles to overcome business challenges

Centralised Framework
We develop and implement different processes and portals for you to deploy these in your organisations and bring your teams on board with the design thinking approach.

Insightful Training
We conduct training for your executives so that they can understand design thinking principles and remain at the forefront of innovations.

Collaborative Environment
We deliver platforms that foster collaboration amongst the team members, empower them to share their expertise and experiences and derive an appropriate solution for any business problem.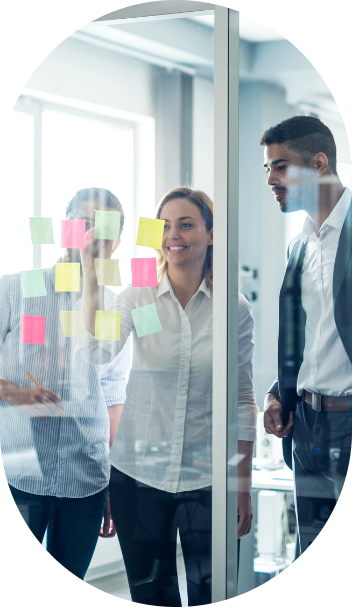 Improved Visibility
We offer a Design Thinking approach that lets you identify the exact root cause of the problems and gain the ability to find efficient and long-lasting solutions providing you with better visibility of the problems.

Well-Structured Processes
Our Design Thinking approach removes all the speculations and guesswork related to innovations and encourages you to discover new and quick ways to solve challenges with a systematic and organised process.
Monday to Friday | 9am to 5pm (AEST)
Monday to Friday | 9am to 5pm (AEST)